MD Brendan Breslin, supported by the vision of the Committee and the combined energy of all our members, are keeping DCB on a growing and upward trajectory.
Here are the highlights of our various musical and community involvements that have given renewed focus and direction to our band in maintaining musical excellence in spite of the restrictions, fewer performance opportunities  and impossibility to rehearse indoor. We strived to continue to develop meaningful ties with the North Inner City Dublin Community as well as our kind host in Childvision National School for the Blind in Drumcondra where DCB has had to temporary relocate from its North Great George St historical home.
#Heroes2Us – David Bowie arranged by our MD Brendan Breslin
Dublin Concert Band has joined forces with the Choir of Holy Family Deaf School Cabra to perform a new version of David Bowie's legendary song "Heroes". This unique online performance includes Irish Sign Language interpretation and is dedicated to everyone who has undertaken heroic acts of bravery or kindness during the Covid-19 pandemic.
"Through our performance we are showing our appreciation of the sacrifices made by our Frontline Workers during this pandemic. But we also wanted to honour the many hidden heroes at home and in communities. Everyone is doing their best to survive the current crisis in their own way. Demonstrations of courage and bravery in every form deserve as much recognition as we can give at this time. Whether it's in frontline service, supporting community spirit, or showing the strength to ask for help, we all as Bowie puts it, can be Heroes." B.Breslin
World Tour Of Inner City Dublin!
Over the summer we had the vital and loyal support of the Dublin City Council and its North Inner City branch in order to bring short live performances in the form of 2 pop-up concerts on Saturday afternoons for 6 weeks running! The festive mood and lighthearted nature of these events helped bring cheer to many neighbourhoods as well as the band and develop new ties within DCB's historical home ground.
MudStock Festival
We were very excited to be blowing away the covid blues in September  with an outing for a small group of us at the Mudstock Festival. The outdoor event, featuring many musicians and groups around the secluded little garden of Mud Island, was streamed live and masterfully organised and produced over two days with full sound and video professionally edited thanks to Dublin City Council – North Inner City and North East Inner City – Dublin.
watch it here : https://fb.watch/31A6GbNV_-/
DCB – 100 km Cycle-A-Thon in aid of Childvision
Throughout the summer and into autumn of 2020, 10 intrepid DCBers started training with the aim to cycle 100km around the greater Dublin. Generously supported by the whole band, families and friends of DCB, they raised over €10.000 in aid of Childvision National School for the Blind located in Drumcondra where the band has been graciously given safe heaven to hold its rehearsals over the last 2 years.
In much need of specific high end equipment costing in excess of €9.600 called the Omi Vista Tabletop and Floor mobile, Childvision will now be able to bring its students this sophisticated (and fun) interactive visual and auditory projector which is activated by movement and touch,  enabling them to develop vision and motor skills.
Along the 100km route the band held 2 mini musical performances (Howth and Rathfarnam) and took a couple of extra pit stop supported by extra non-cycling members as well as our sweeper car team!
Our Flutist Mary Russell completed her 100km in scenic Donegal where she spent her summer whereas our Athlone based Army Band Professional musician Johanna Kenny and Fiance Drummer Paul Seeber elected to complete their 100km stint in the midlands.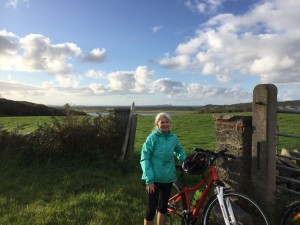 DCB TV – Live Streaming and reaching out to the greater Irish Banding Community
Our MD Brendan Breslin took on a new hat on Thursday evenings instead of his baton for our weekly rehearsal to interview band members, explore the rich history and colourful characters of the Irish Banding Community as well as take us through insightful commentary on recent DCB past performances.
 
This open and lively format was a key vector to keep DCB members linked in and in touch through the months and weeks of isolation from one another as well as a wonderful fresh way of getting to know some of us more in depth or under a different light.
Here are the archived shows you can still catch :
https://www.youtube.com/channel/UC8j9NNyQTfq7ozkhNdiZmZw
https://www.facebook.com/dublinconcertband/videos/240382393908125/
DCB Proud Recipient of Music Capital Scheme Grant
We're thrilled to be among this year's Music Capital Scheme 2020 awardees. What upbeat and positive news to end this difficult year on! We can not wait to get back into the rehearsal room in 2021, as soon as it is safe to do so. We will be investing in a Baritone Saxophone, Eb & Bass Clarinets as well as new percussion gear. These will be invaluable assets to our members who can develop new skill as well and cover for each other within sections in a more fluid fashion.
Thank you Department of Tourism, Culture, Arts, Gaeltacht, Sport and Media and Music Network!